Y'know what's one of my favorite things about online registries? I can constantly, obsessively stalk what our guests have bought for us! Bwahahaha. I haven't figured out a way to tell
who
has purchased items, so we still have that fun element of surprise.
We (eventually, finally) registered at 4 stores: Bed, Bath & Beyond, Target, Macy's, and R.E.I.
At Bed, Bath & Beyond, we registered for new dishes, flatware, everyday glasses, and miscellaneous home/kitchen goods.
Colorwave Graphite Rim 4-Piece Place Setting
We already love our matte black dishes that Opie owned before we got together, but we only have 8 place settings. These dishes are sort of a natural progression of our aesthetic. They still have the matte black finish to the rim/outside, but a glossy white center. Bold, graphic, and they go with just about anything.
Our new flatware. 3/4 of it has already been purchased! [dances] Much like our dishes, we already have 8 place settings of flatware that we like. We stayed with something in a similar vein, but these are far nicer than our preexisting stuff. They have the satin finish we love (water spots begone!) but a much greater heft and prettier, more unique design. These were a nice compromise between weird quirks we both have about silverware. I don't like 3 pronged forks. I don't know why. I just don't. Opie likes fairly modern (though still simple) flatware designs, and the spoons and knives have an unusual shape that we both dig.
Breville Cafe-Roma Espresso/ Cappuccino Machine
By no means the fanciest espresso machine on the market, but it gets very good reviews considering the pricepoint, and it's purty and and and oh-em-gee, an espresso machine at hooooooooooooome! This was actually the first thing bought off our registry! Exciiiiting. Nevermind that I can't consume caffeine anymore.. I can stock up on some decaf, and also make some kickass hot chocolate and steamers and such. And maybe, maaaybe, I can cut down some on Opie's Starbucks addiction.

At Target, we registered for some appliances we're still missing in the kitchen like a mixer, toaster, electric griddle, and then more random home/kitchen goods.

Sunbeam Stand Mixer - Red
[gasp] Not a Kitchenaid Mixer! Blasphemy, I know. I mean, sure, I can covet the aesthetics and craftsmanship of a Kitchenaid Mixer along with every other bride, but honestly, I don't do much baking. Certainly not enough to warrant keeping a mixer out on the counter all the time, no matter how beautiful. And not enough to warrant buying a $300 appliance. But I mean, this mixer is still totally cute, yes? It's a much more manageable size and weight (while still heavy enough to not walk across the counter), and gets pretty darn good reviews. Also, the company's customer service gets stellar reviews, so if I ever have any problems with this mixer, I have good faith that they'd resolve it.

Bordeaux 3-Bottle Wine Rack
Yay. Cute li'l wine rack I can put on the counter where a monstrous mixer would've gone instead! This one has also already been purchased.
At Macy's, we just registered for crystal.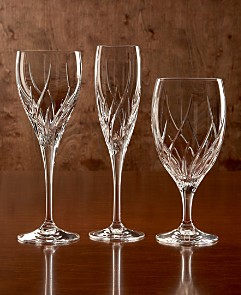 Marquis by Waterford "Summer Breeze"
Puuurty. We chose not to register for any silver or china. Growing up, the only time we ever pulled out the silver was basically when we had too many people for the number of place settings we had of flatware. China? It basically just made an appearance for Christmas brunch. Crystal, though, was (and is) used multiple times a week by parents for wine and the like. I swear wine and other spirits just taste better out of crystal.

At R.E.I, we're registered for a camping stuff, mostly.

Kelty Yellowstone 6 Tent
Like a tent! Very exciting stuff. So far, no one has bought us any of our camping stuff, but maybe (hopefully) that'll change as time goes on. I know it's not your usual wedding gift shtuff, but we'd love to camp, and currently have zero supplies with which to do so.
Obviously, we have a bazillion other items on our registries than the ones we highlighted here, but this gives a nice idea of the things found there.
Oh, also, I'd like to celebrate the fact that our wedding is in exactly 1 month, and we are now within the 30 day period during which we can get our marriage license! Woohoo!