We interrupt this wandering narrative to show you some stuff of a purely aesthetic nature.
It's scary how many of these projects were tackled at the 11th hour. It's amazing how many of these projects would've fallen completely by the wayside if I hadn't had awesome wedding elves jump in at the last minute to save me from death by crafting.
Let's start with something silly and fun. Our "photobooth".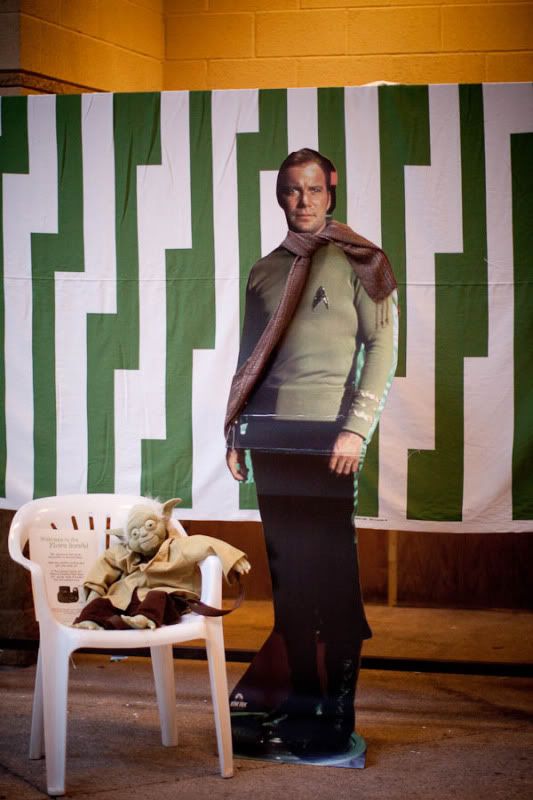 Ingredients: Fabric bought for about $0.90 a yard at Ikea about 6 months before the wedding. 1 Captain Kirk standup that typically lives in our kitchen because we're classy like that. 1 Yoda backpack that I bought several years ago because I'm awesome. 1 awesome Uncle who threw all the ingredients together and made it work even though I forgot the part of the tripod that holds the camera on, and also yaaaay duct tape.
Moving onto a few very last minute projects.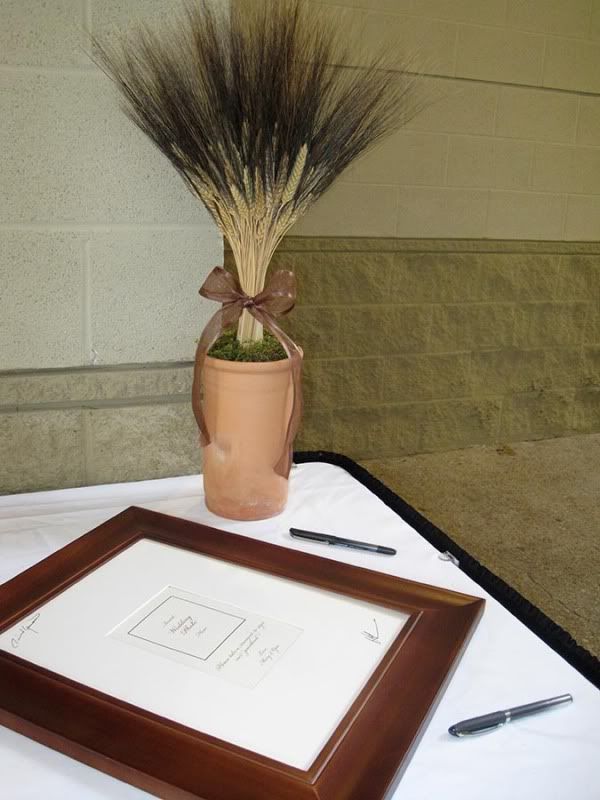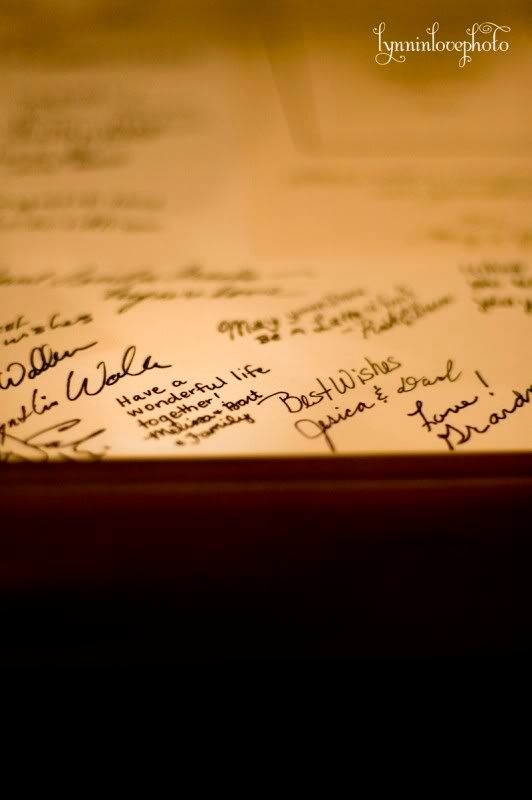 I love how the "guestbook" turned out. I can't wait to print one of our portraits and hang it above our mantle!
The card basket was also so very last minute. My mom and I bought the basket sometime within the last 2 weeks before the wedding. I made the li'l trifold sign the night before the wedding. Ha. Procrastinate? Me?! Never!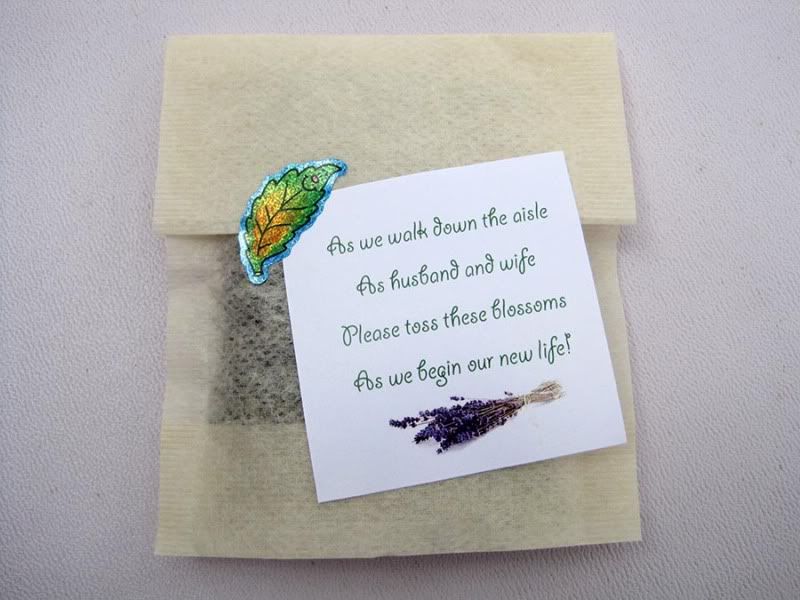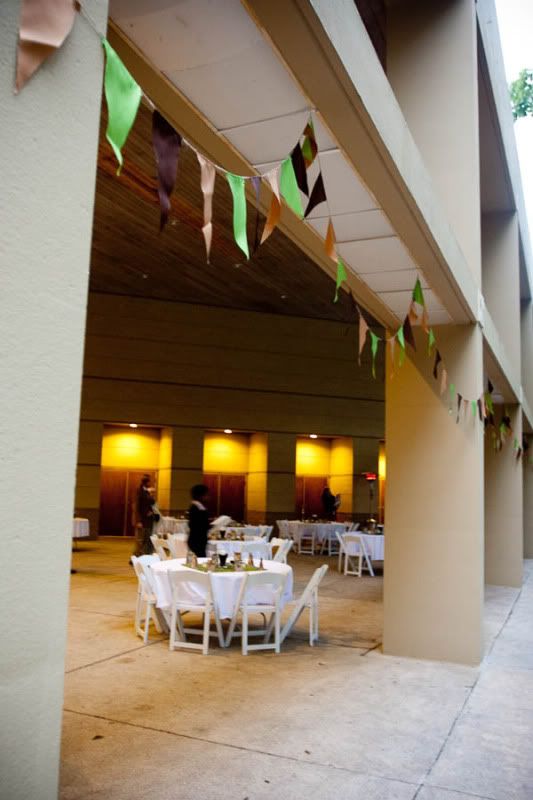 Oh, my beloved beautiful
bunting
!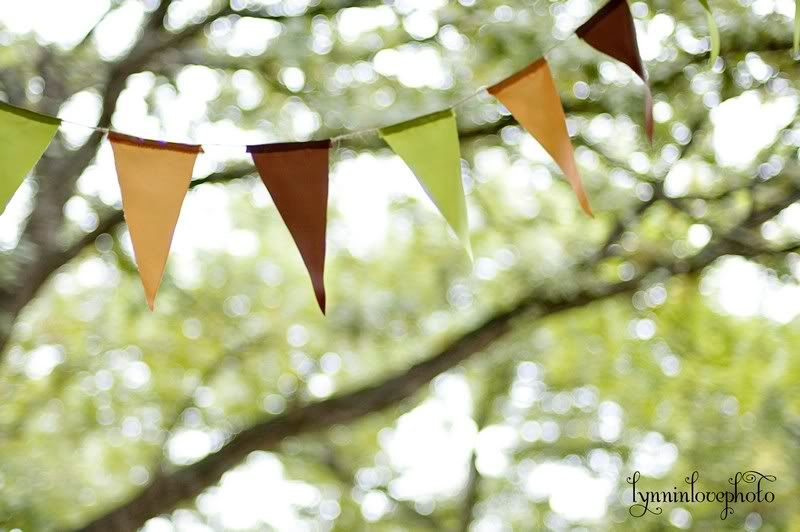 [drools] Probably my personal favorite bit of decor. This is one that I fought a number of people on. "Why?", they asked. "Like the flags at used car lots?", they said. "Yes, exactly", I said. "You so don't have time to make those", they said. "Yeah huuuuuh", I whined. Ultimately, it totally wouldn't have happened if my mom (one of the original protestors, particularly about how much time I had on my hands) hadn't tracked down the fabric and cut out all the flags. Thanks mom! I glued all of 'em onto the string one afternoon and they wound up looking aaaaawesome.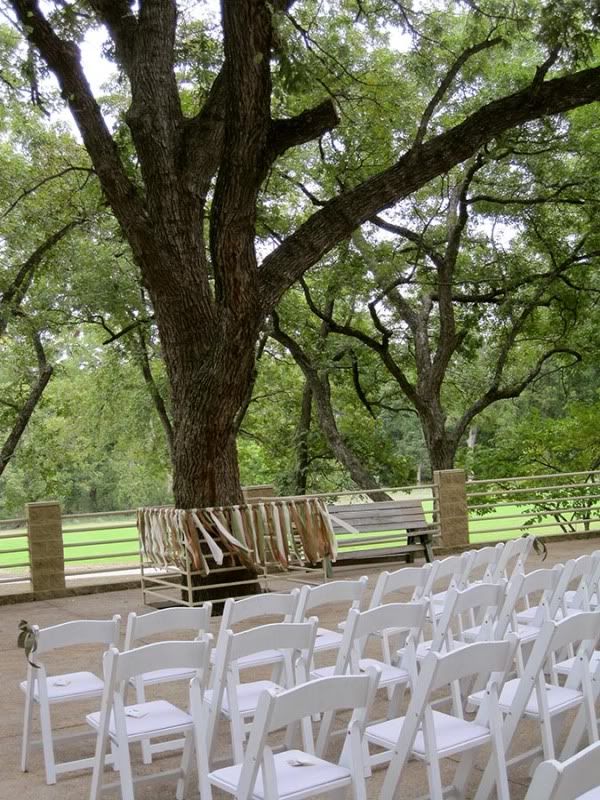 Another late-in-the-game project was the streamers on the railing around the trees. We wanted something to soften their appearance, since our ceremony was set to occur between these trees. Beige metal railing didn't have the right.. ambience. Our first good idea was ribbons disguising them like so, but.. I'm a cheapskate. A cheapskate with a tight budget. And ribbon's expensive!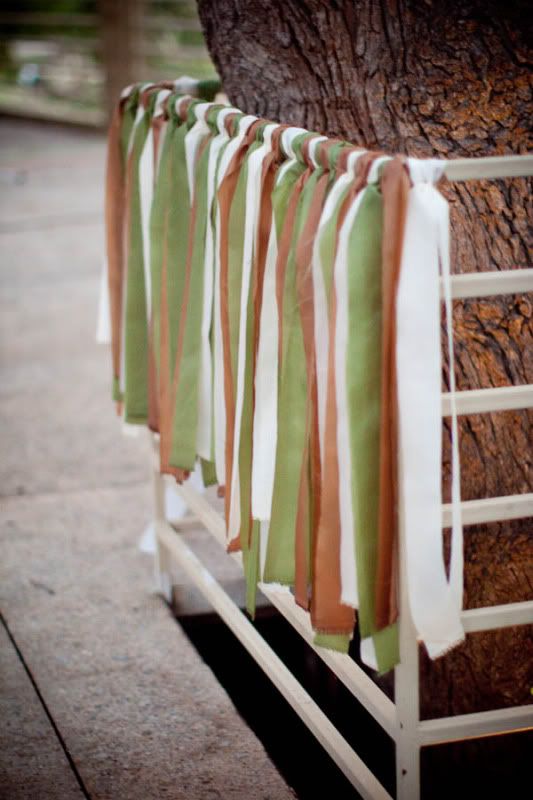 So uh.. because we're crazy, we decided to buy really cheap fabric in our wedding colors and cut it into strips. Except on top of being crazy, we're also really busy, so had no time to actually accomplish this project. Luckily wedding elf Carla, one of my mom's close friends, volunteered to help out. She cut all of these strips of fabric in perfect straight-as-a-board lines of uniform thickness, and then stored them beautifully folded and organized by color. So, essentially, the opposite of what my haphazard disorganized make-it-work self would've done. Carla, you rock.
I find it really cute that Opie and his groomsmen are the ones that ultimately wound up tying the fabric onto the railing. I wasn't able to attend the set-up, but I can totally picture them doing it. Awww.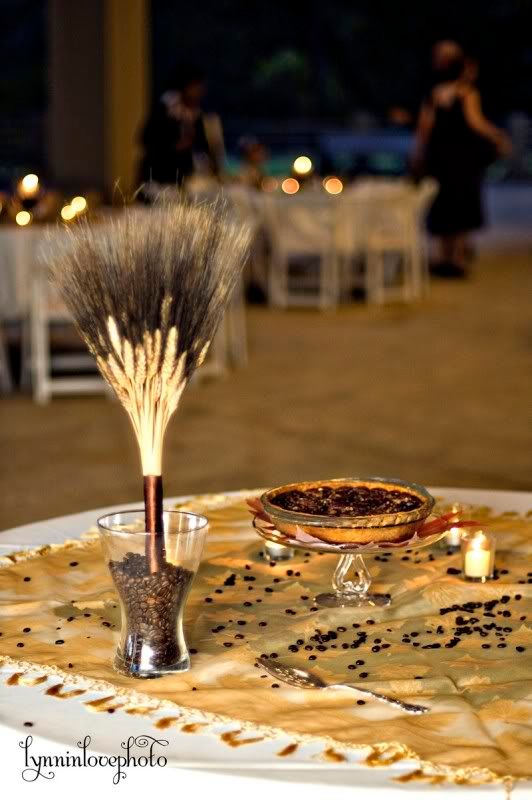 As previously discussed, I could hardly care less about cake. Yeah, sure, for a brief while I oohed and ahhed over the pretty ways you can decorate wedding cakes. And then I remembered, Oh yeah. I don't like cake. And wedding cakes are ridonkulously expensive. So, I present our beautiful wedding pie.
Originally, my grandmother was supposed to make our wedding pie. Unfortunately, unforeseen complications made that rather inconvenient for her, but my lovely sister-in-law Melissa stepped in instead. Our wedding pie was pecan pie, made with the recipe that Opie uses. In other words, deeeelicious. Opie and I have "pie time" on a regular basis, with pies that he/we make at home. It's a pretty pivotal part of our relationship.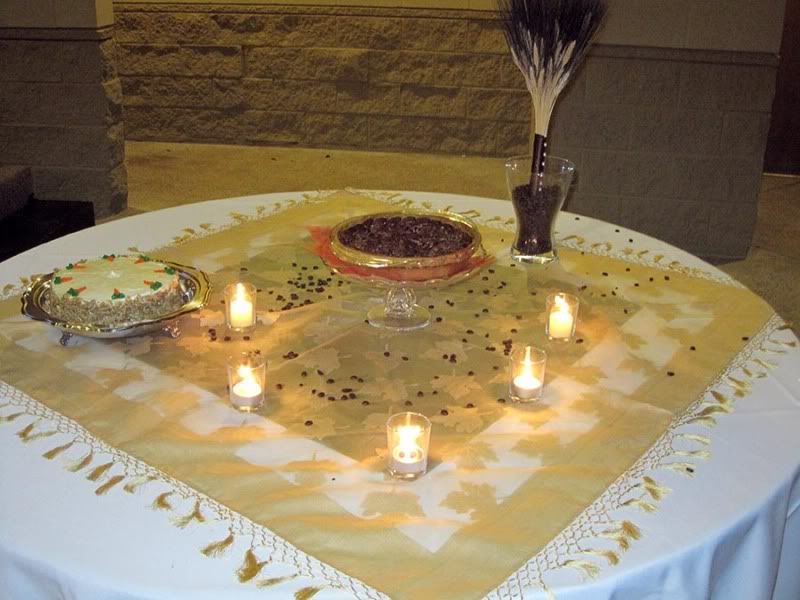 Om nom nom nom pie. Oh, right. Carrot cake too, yeah, yeah. Admittedly I like carrot cake pretty well. It's Opie's favorite cake and thus made a perfect groom's cake. :] It wound up being one detail I would change a little bit if given the chance, but ultimately, it so incredibly doesn't matter. I just don't like the little technicolor orange and green carrots on top. Yup. That's it. The cake was admittedly delicious, for the one bite of it that I got.
That's my bouquet chillin' with the coffee beans up there. Also, the cloth spread on the table is a wrap that my sister gave me for my birthday (and also for prom) back in high school. The cake and pie servers both belong to my mother. Hooray for using preowned items!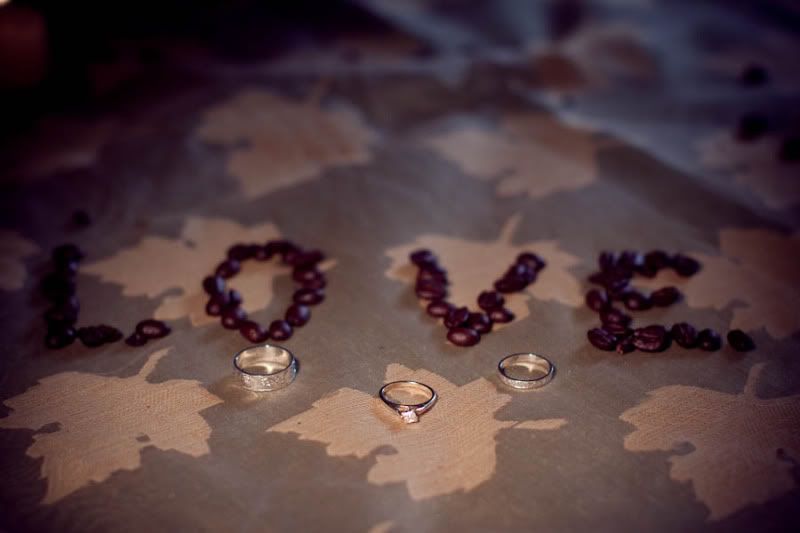 Jenna wound up using our cake/pie table as a backdrop for some cute ring shots. I'm not sure if it was Jenna & Lynn or some wedding guest that wrote LOVE with the coffee beans, but it was an adorable unplanned touch.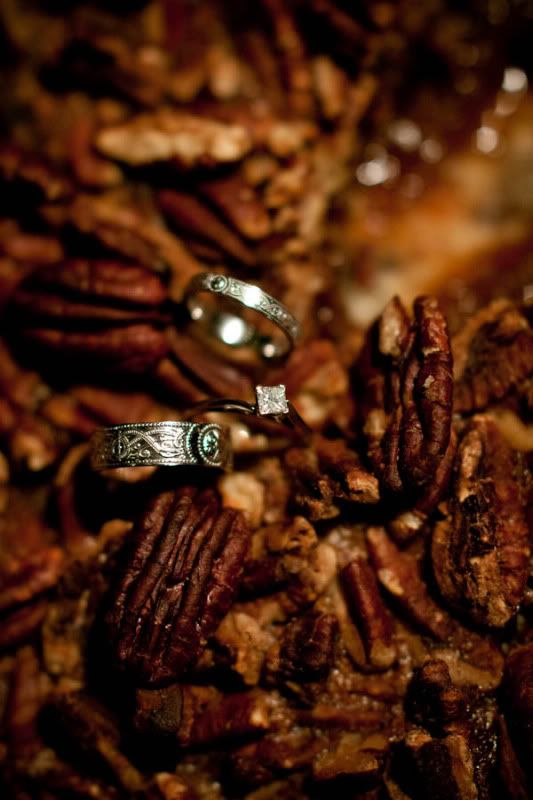 Looking at this photo is always such a struggle in my mind between "Oooo, pretty jewelry!" and "Mmmm.. delicious piiiie." [drools]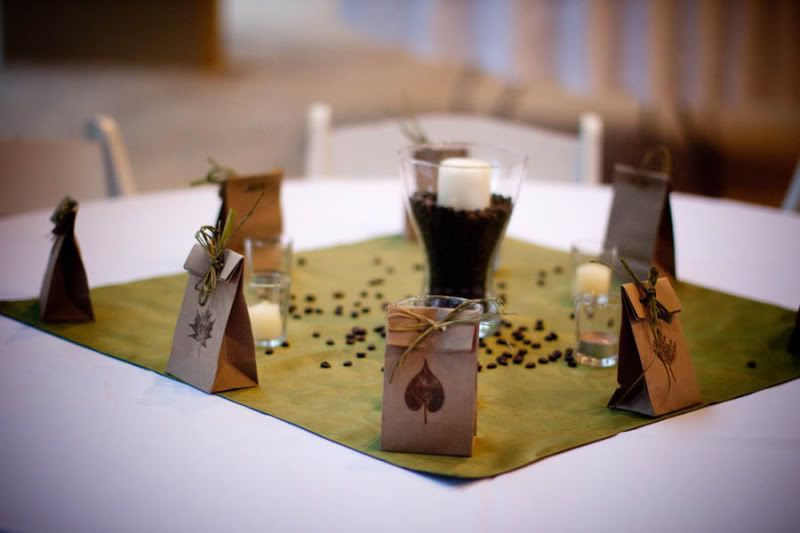 I'll close the entry with some photos of our tablescapes. This is one of the few projects that actually came to fruition via lots of long-term planning and work.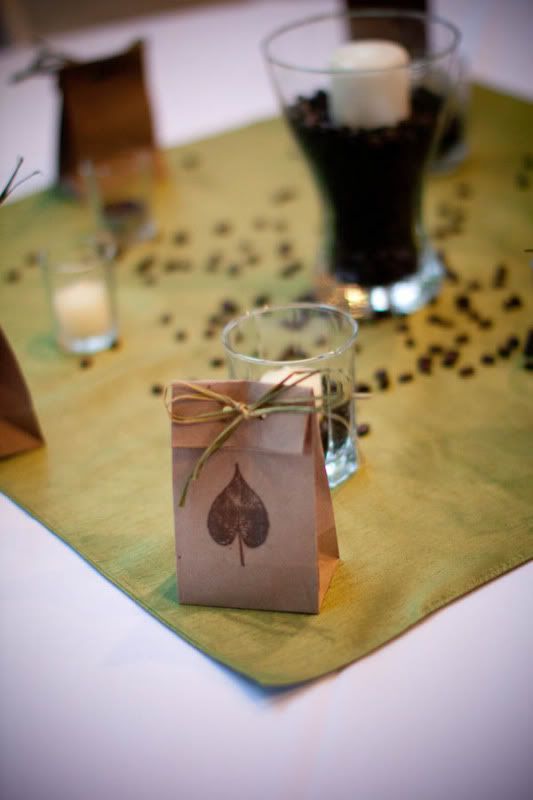 The green polyester shantung fabric was stalked and purchased on sale with coupons months in advance. My mom cut and hemmed all of them a good while before the wedding. The little lunch sack favor bags were purchased from Target everytime they restocked 'em for about a month. My sister and I decorated them over the summer when she came to visit. It was also at that time that we taste-tested the favors themselves. We decided on deeeelicious cranberry and coffee chocolate truffles that my sister handmade.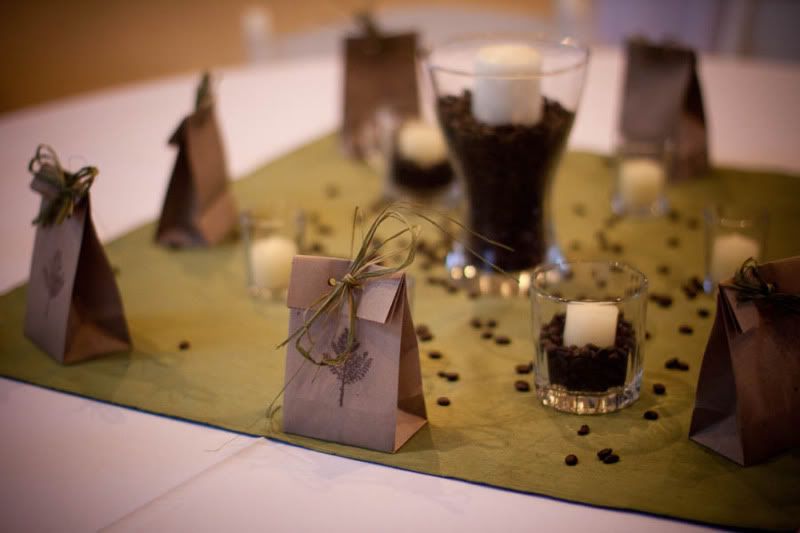 I saved up coffee beans for a full year before the wedding. I get a free pound every week at work, and while I forgot a few weeks here and there, I had a TON stockpiled by the time the wedding rolled around. I bargain hunted for ages to find cool inexpensive vases. I bought the white tablecloths on ebay as soon as I knew how many we needed, after going on a similarly epic quest for the cheapest best-looking ones. I bought the votive holders off of Craigslist somewhere midway through planning the wedding. The cups doubling as candleholders were all my maternal grandparents', and I've saved them ever since the estate sale after my grandfather passed away when I was 13.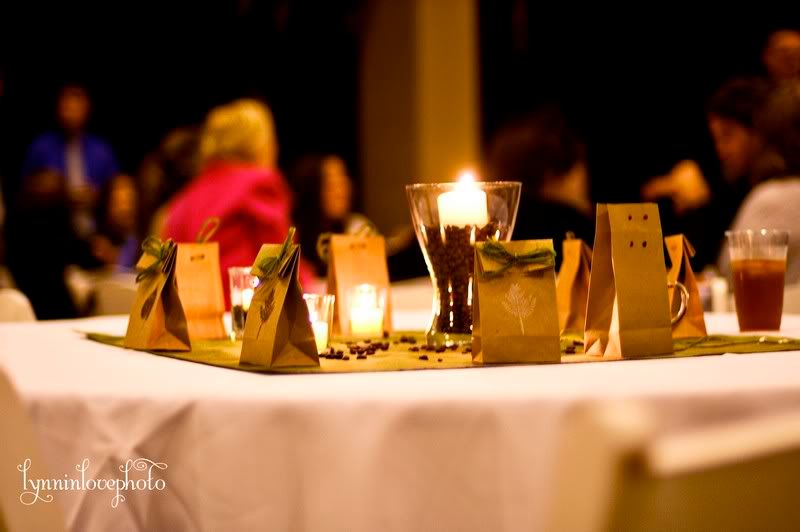 Everything looked so pretty in the candlelight, just like I imagined.
All photos by Jenna Cole, unless otherwise denoted by watermark as Lynn Nguyen's, or if credited to my day of coordinator, Chrishawn Mitchell.
I purchased a disc of unedited high resolution photos from Jenna, so all photos by her have been edited by me for the purpose of sharing them with you.