And now we come to the wedding itself. The ceremony, or at least the grand lead-up to it. For a long time, the ceremony was just this vague idea less important and less pressing than the million other plans that we had to make for the day of our wedding. But then I remembered that the ceremony is really what it's all about. The joining as one, witnessed by our nearest and dearest. And so I plunged into the planning of the ceremony itself with fervor. I anticipated the ceremony with more optimism and hope than most anything else as I approached our wedding day. With that insight into how I was feeling as I proceeded up the aisle, allow me to show you photos of the processional.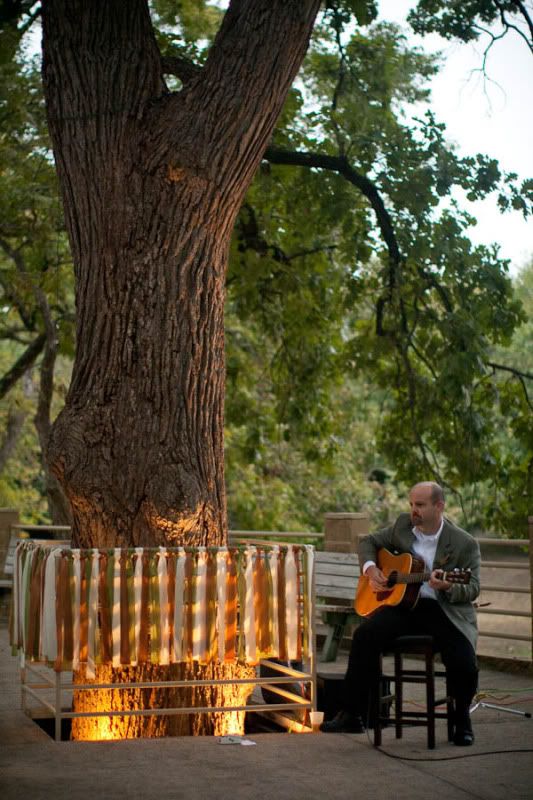 My cousin TJ played guitar for the ceremony. He's a
very
talented musician and very honestly a good friend as well as a member of my family. While I briefly considered hiring a bagpiper to play the processional, I'm so glad I asked TJ to fill that role instead. It was absolutely perfect hearing "
Sea of Love
" played by someone I love as I walked down the aisle toward my soon-to-be Husband. I invite you to listen to Cat Power's version, as linked to above, while you browse through the rest of this entry.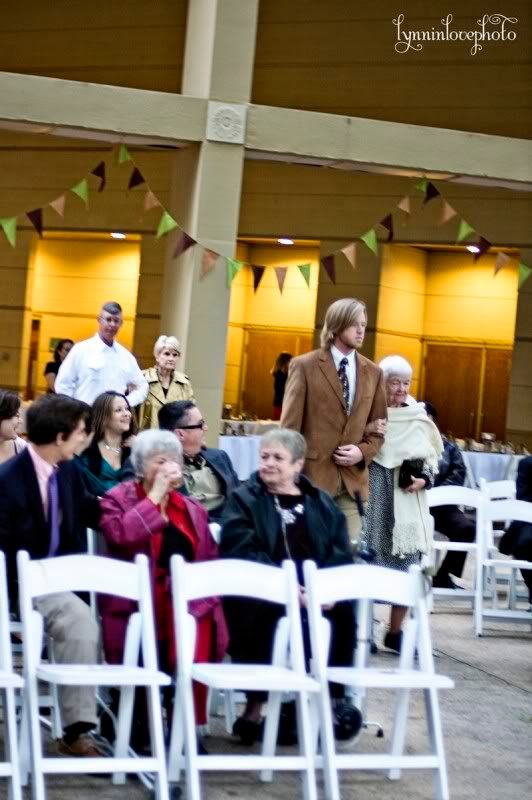 There are both of our paternal grandmothers being escorted by my father-in-law and my brother.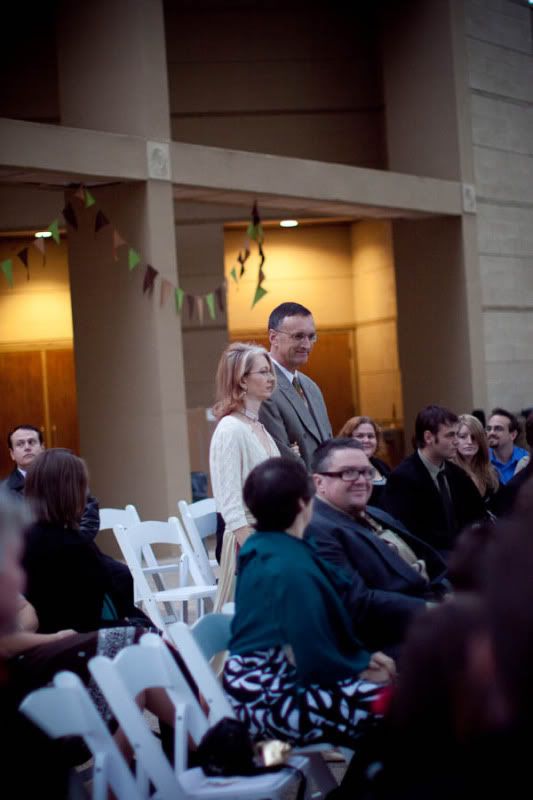 There's Opie's mom and stepdad. I also love that my artistic jack-of-all-trades-including-photography Uncle Jim is making eye contact with Jenna's camera.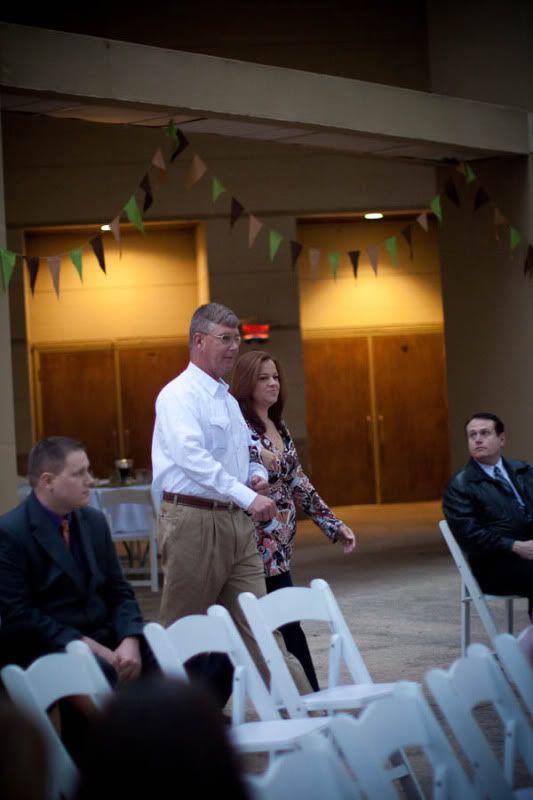 Opie's dad and stepmom making their way up the aisle. I have no photos of my mom going up the aisle for some reason, but my brother escorted her since I stole my dad's arm for the occasion.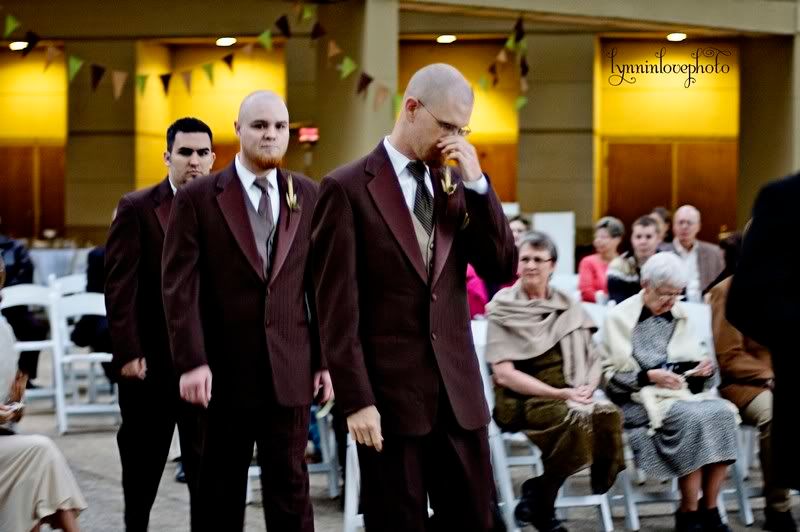 Here's the only shot of the boys coming up the aisle. Opie,
are you crying?
Or maybe your nose itches. Yeah. That.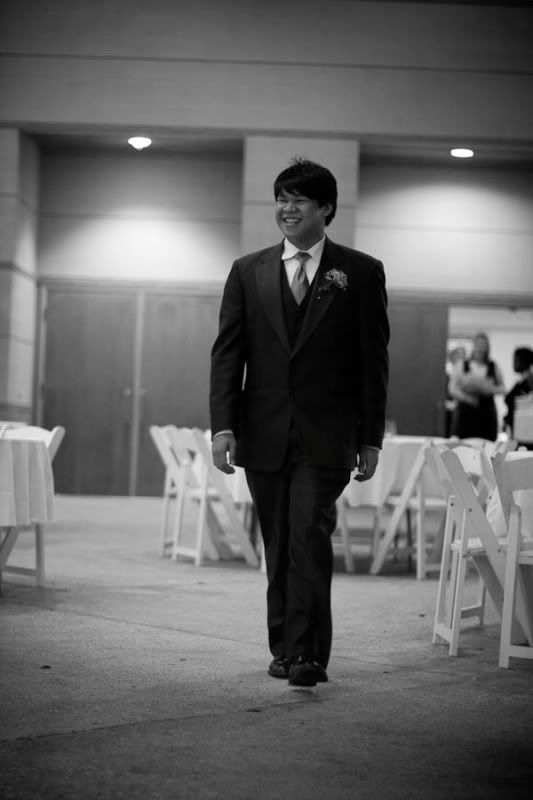 Bridesman Michael claimed throughout the whole planning of the wedding that he was more excited about the wedding than Opie and me. So not true, but he does definitely look really happy, doesn't he?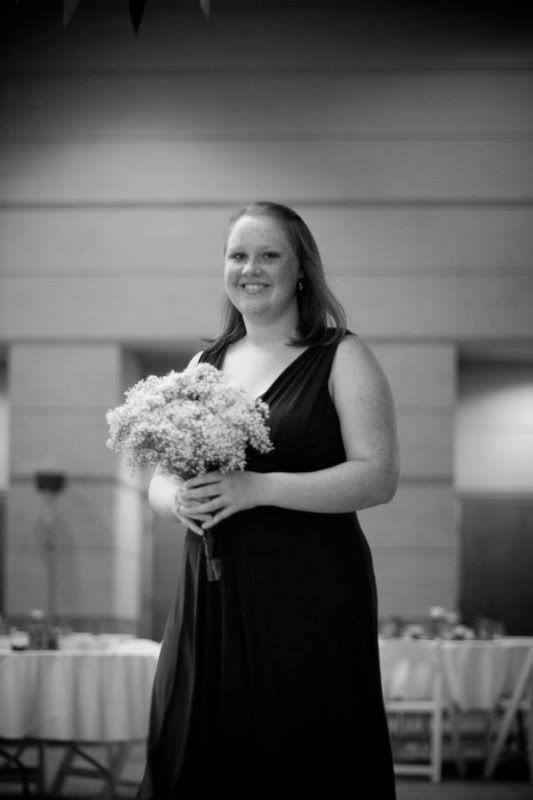 :) Bridesmaid Kelsey lookin' all pretty.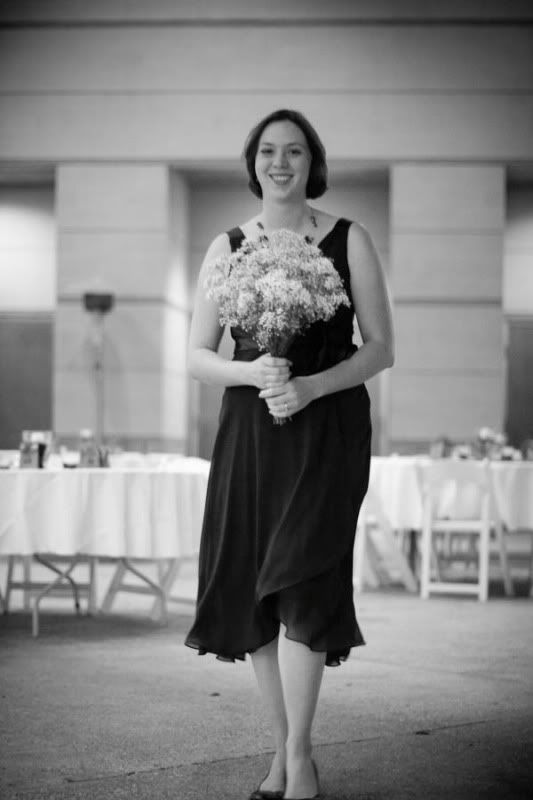 Sister of Honor Jessie processes. Proceeds? Process... whatever. Walks.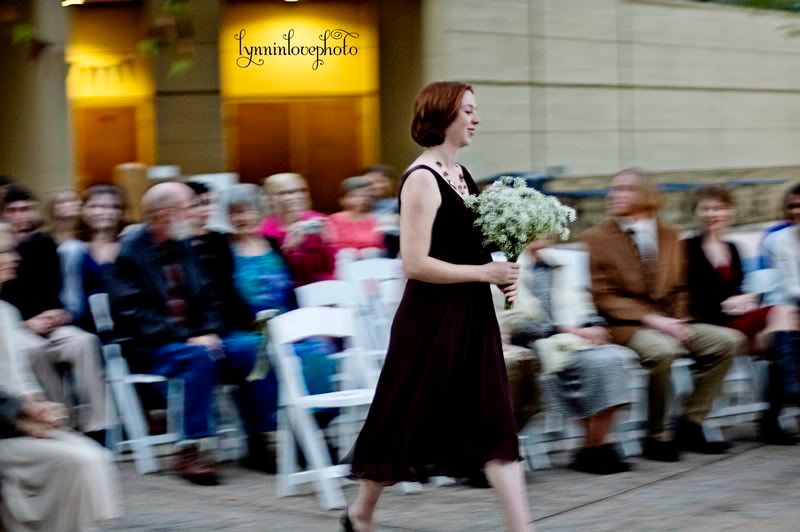 Or moves at warpspeed!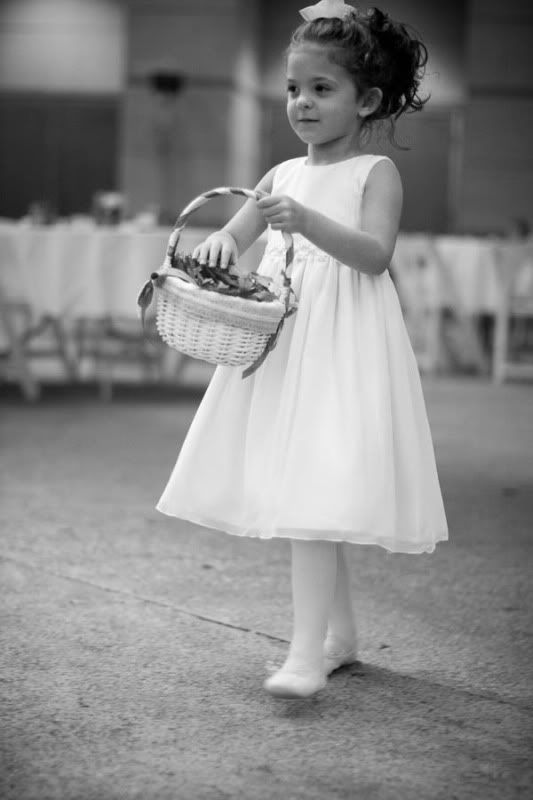 Elise was next up, and she did such a marvelous job. No stage fright here.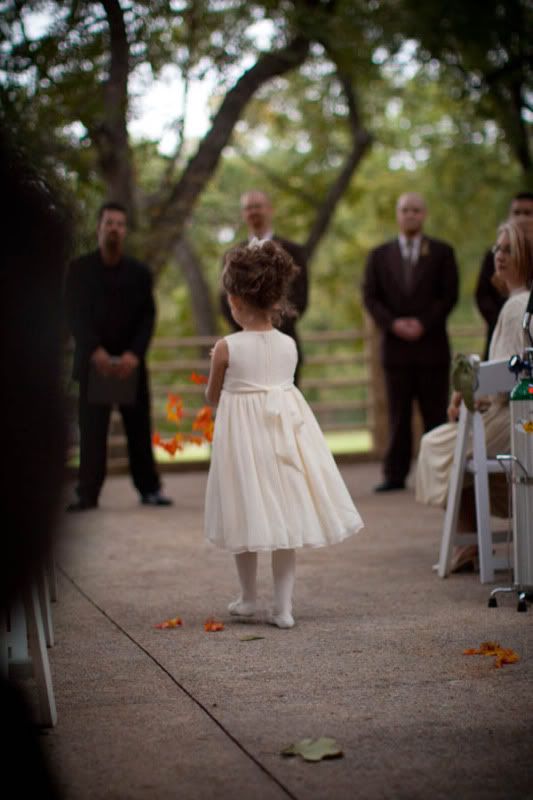 I love this shot, with the leaves caught mid-toss.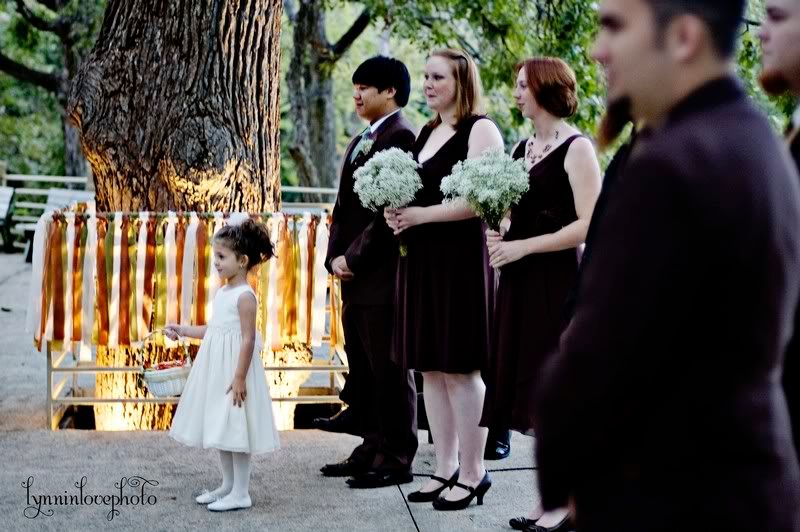 With everyone else in place, it was time.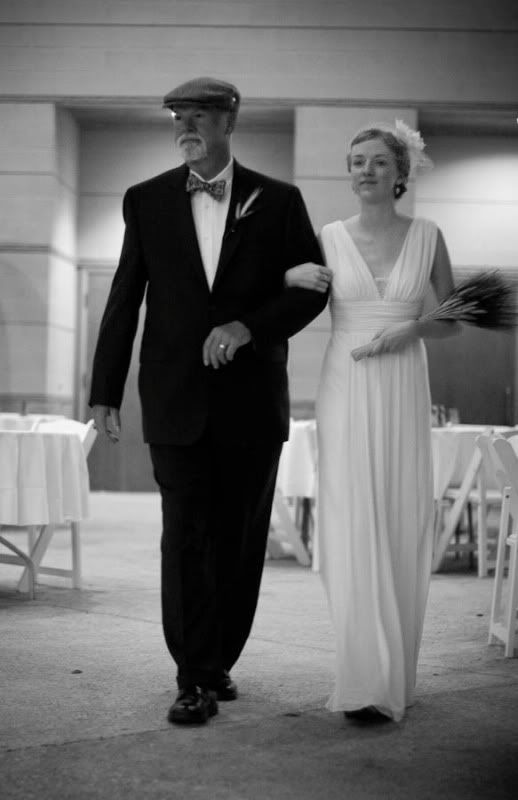 Time for my dad to escort me to my husband.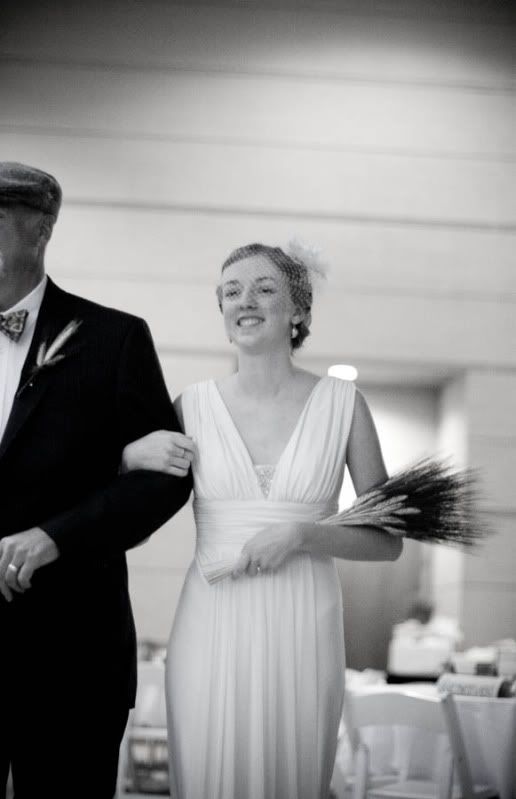 I suspect this is about the point where Opie came into view. Note the big ol' grin on my face. :]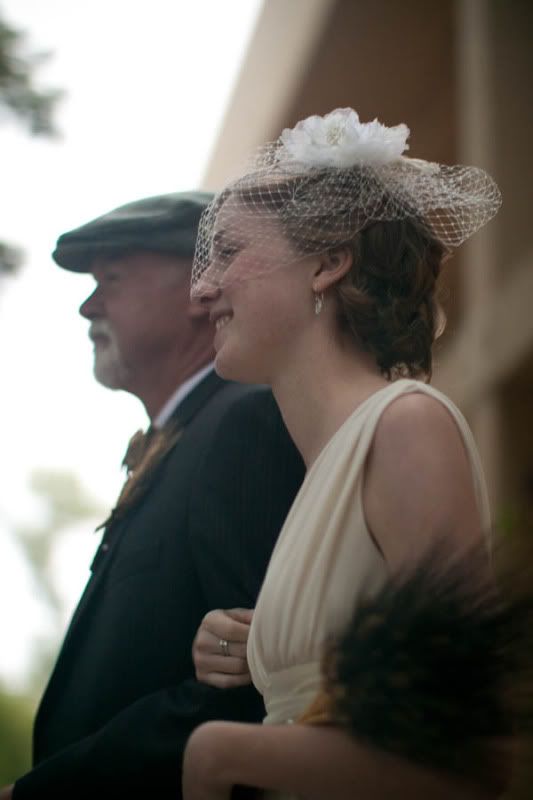 Oh happy day.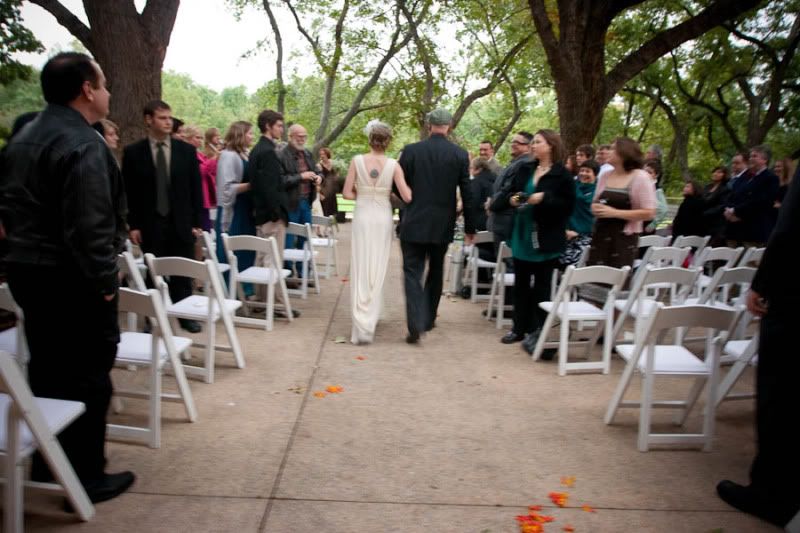 So much love surrounding us, exactly as I hoped. More than I hoped.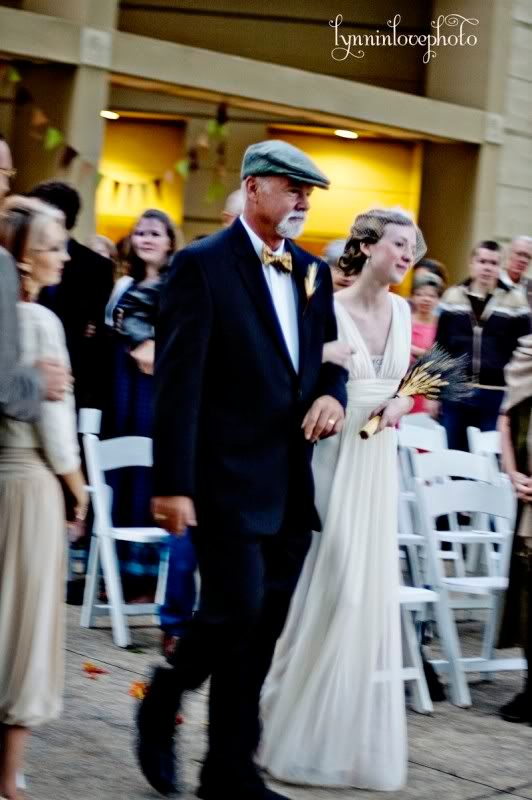 Almost there.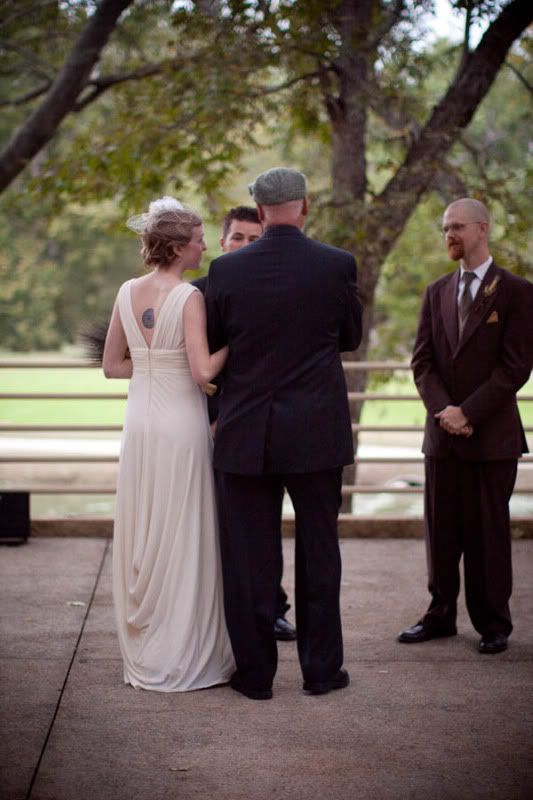 "Who supports this marriage?", asks
Virgil
. "Her mother and I do", my father answers quietly.
My father shakes Opie's hand and then presses my hand and Opie's together.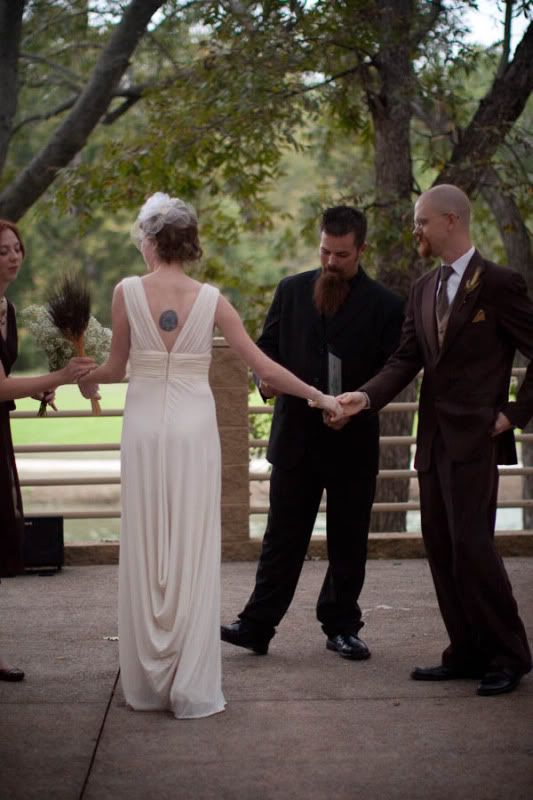 I pass my bouquet off to my sister.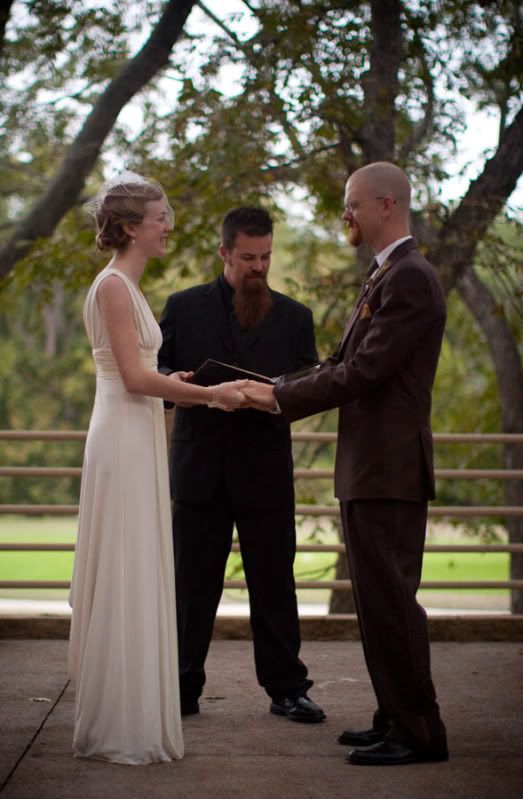 This getting married thing requires a firm grip on the man I love. The man I'm marrying.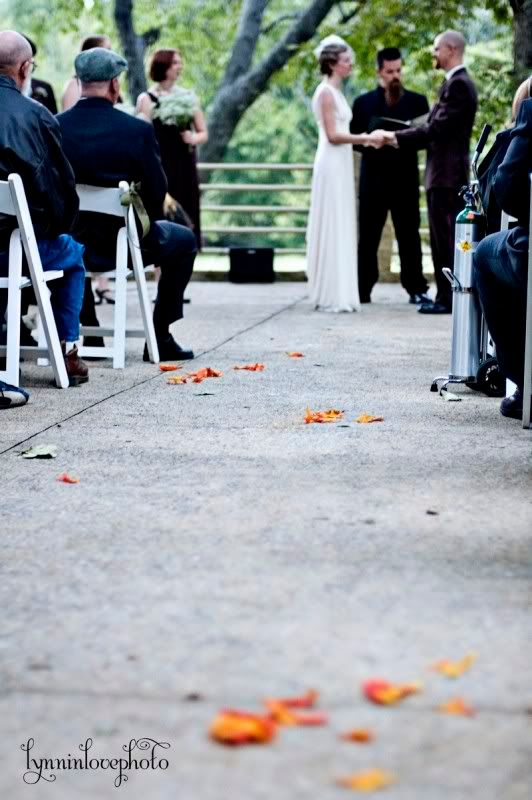 Hands clasped, the real business can proceed.
All photos by Jenna Cole, unless otherwise denoted by watermark as Lynn Nguyen's.
I purchased a disc of unedited high resolution photos from Jenna, so all photos by her have been edited by me for the purpose of sharing them with you.