And now we move onto photos that family members can pretend to be excited about, and friends/acquaintances/strangers could care less about. Ah, the classic wedding family photos. You know the ones. I'm very happy to have them nonetheless. :P
While we waited for all of our immediate relatives to be wrangled (no small task) we snagged a photo with our officiant,
Virgil Walker
.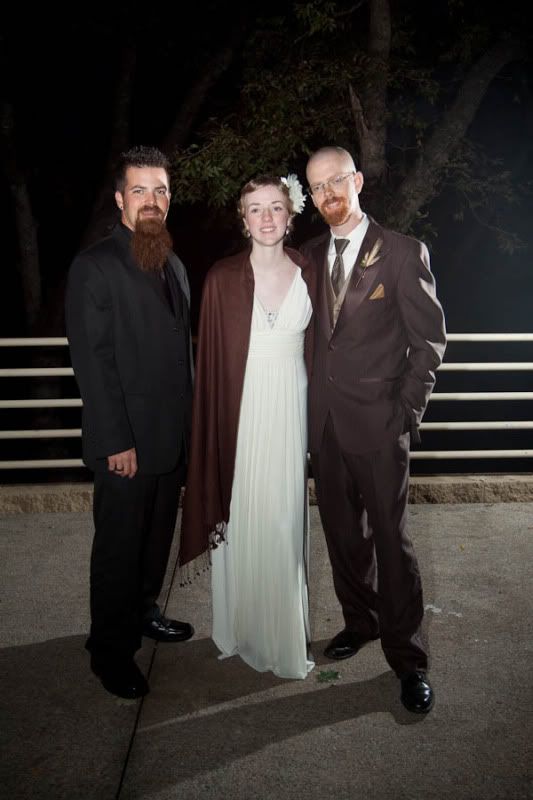 A few others took the opportunity to have some photos taken as well.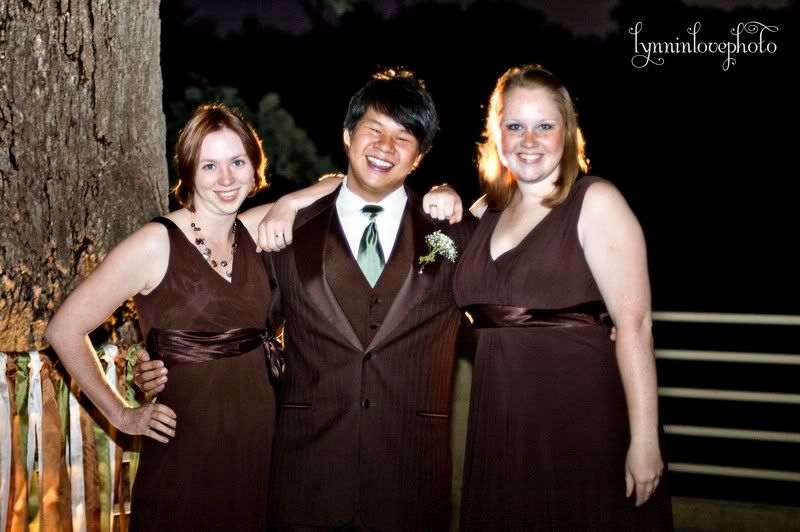 There are all three of my attendants, Sister of Honor Jessie, Bridesman Michael, and Brideslady Kelsey.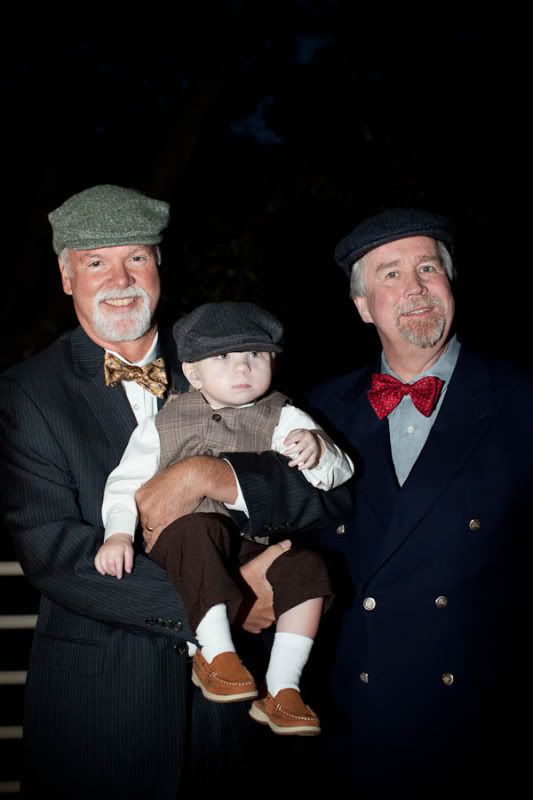 That's my dad, my nephew Connor, and my Uncle Tom all looking quite sporting in their caps. Connor's super-adorable vest makes up for his lack of a bowtie.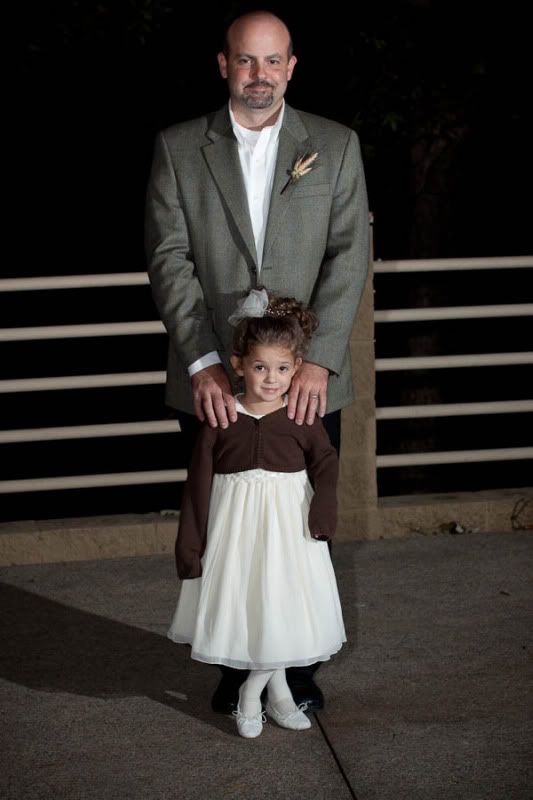 There's my cousin TJ who played guitar for our ceremony, and his daughter, Flowergirl Elise. :)
With the relative-gathering taking approximately forever, we snagged a few more portraits of just the two of us.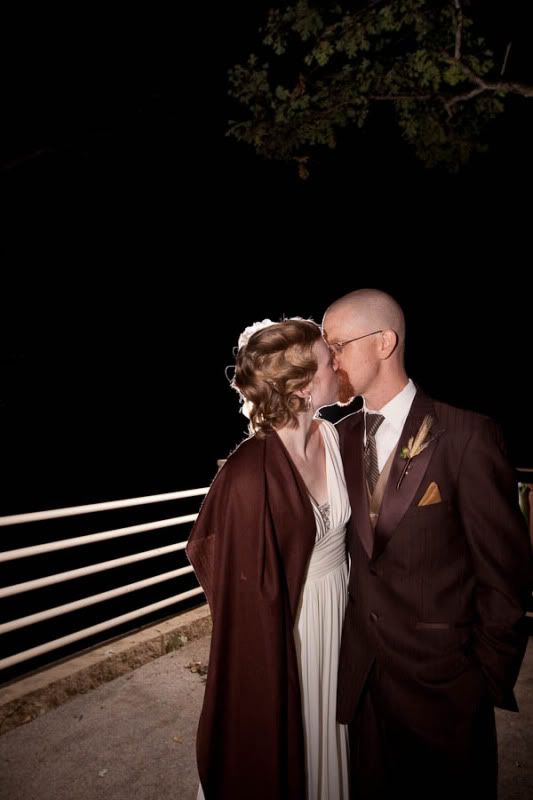 We're glowing! These 2 shots are so gosh. darn. cool.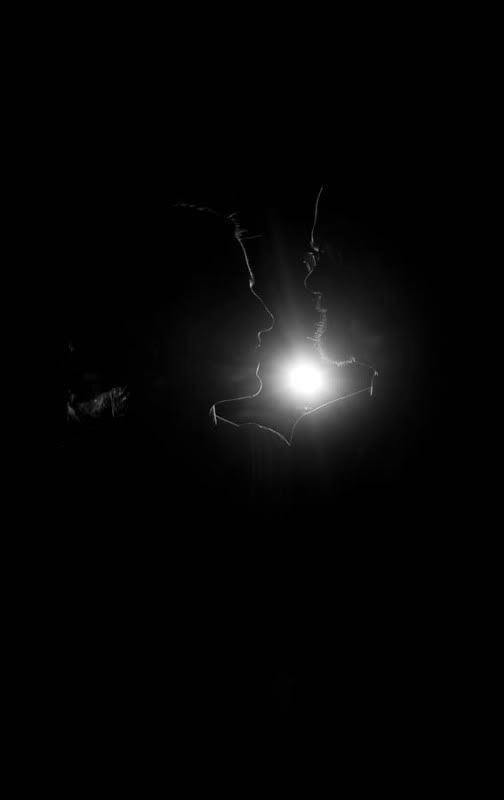 MAGIC. Magic, I tell you.
Anyhow, we finally gathered everyone and snagged a few photos of the whole group with someone making a funny face in each one, and then Elise showed up and made the photos of the whole group approximately 999x more awesome. Just sayin'.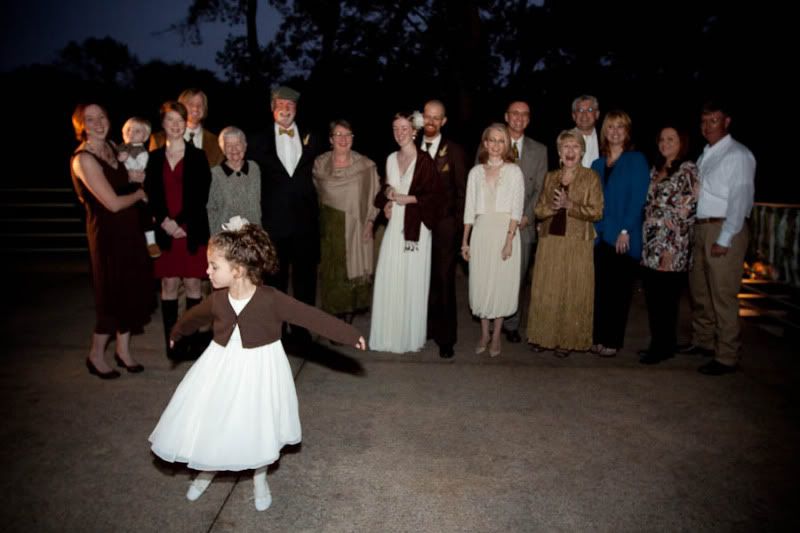 I love this kid. So much.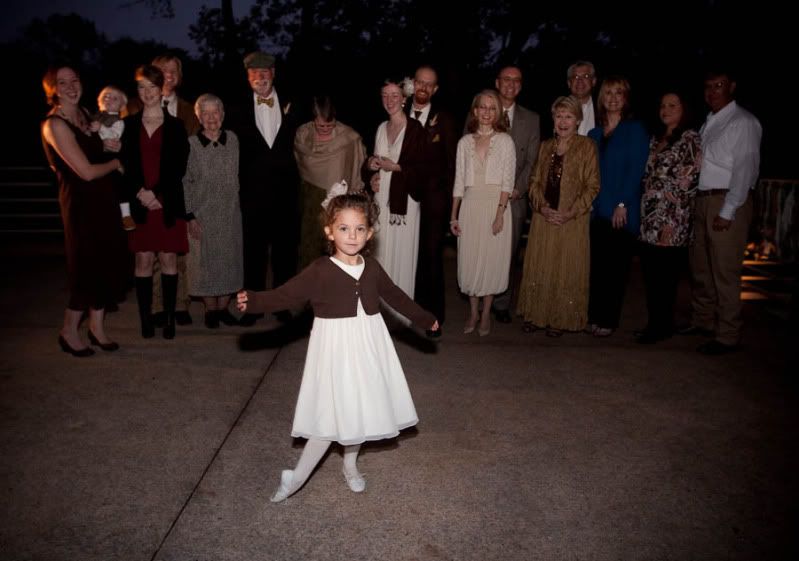 I just giggle everytime I see these photos. I think I might frame one of them.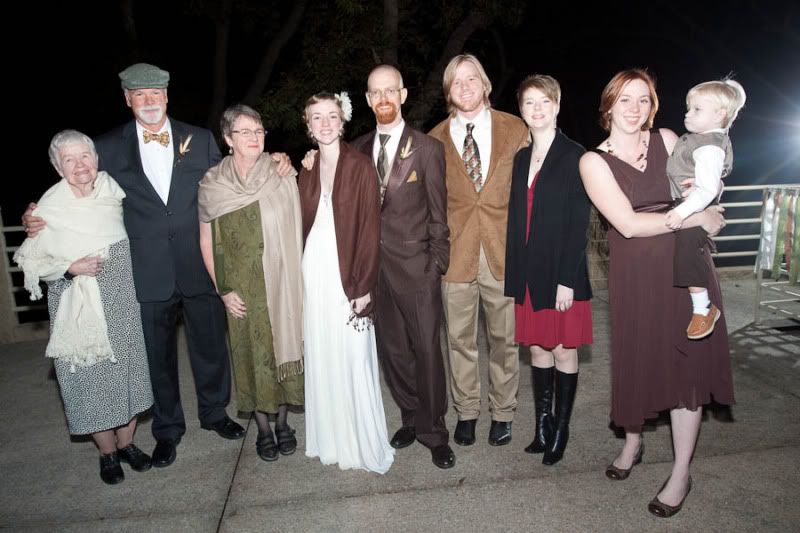 Anyhow, moving on. With smaller groups, we were much more successful with the whole everyone-not-looking-weird thing. This is my side of the family! From the left, my grandmother, my dad, my mom, me!, Opie, my brother Tom, my sister-in-law Melissa, my sister Jessie, and my nephew Connor.
My grandfather and my brother-in-law were unable to attend, but otherwise that's my immediate clan. We opted not to include my bazillion aunts/uncles/cousins in our group photos because um.. Jenna would need a new lens to accomodate them all in the photo.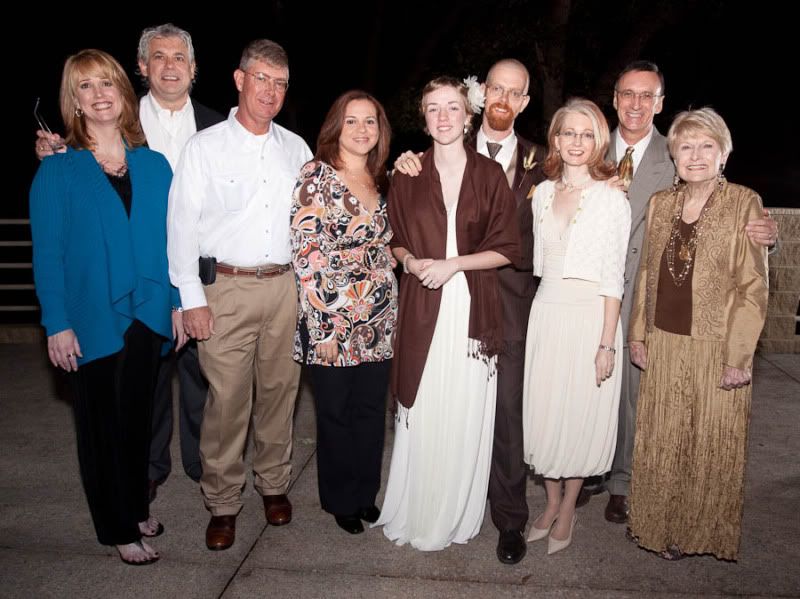 Here are Opie's people. :] From the left, Aunt Katherine, Uncle Dub, his dad John, his stepmother Jesica, me!, Opie, his mom Andrea, his stepfather Terry, and Grandma.
I really lucked out with my in-laws!
Including aunts and uncles and cousins isn't such an issue on Opie's side, given that he has no first cousins, and precisely 1 aunt and 1 uncle.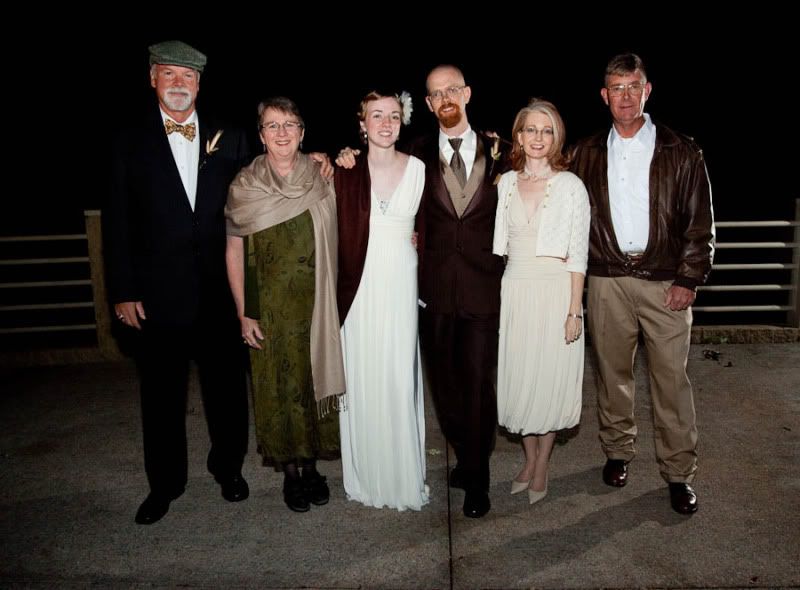 Here we are with our parents. I think it's interesting picking out what features we got from which parents in photos like these.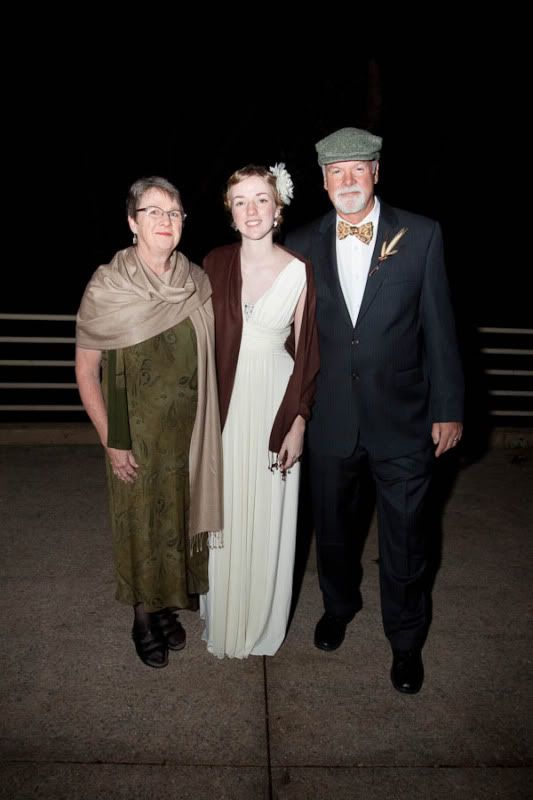 My momma, me, and my daddio. :)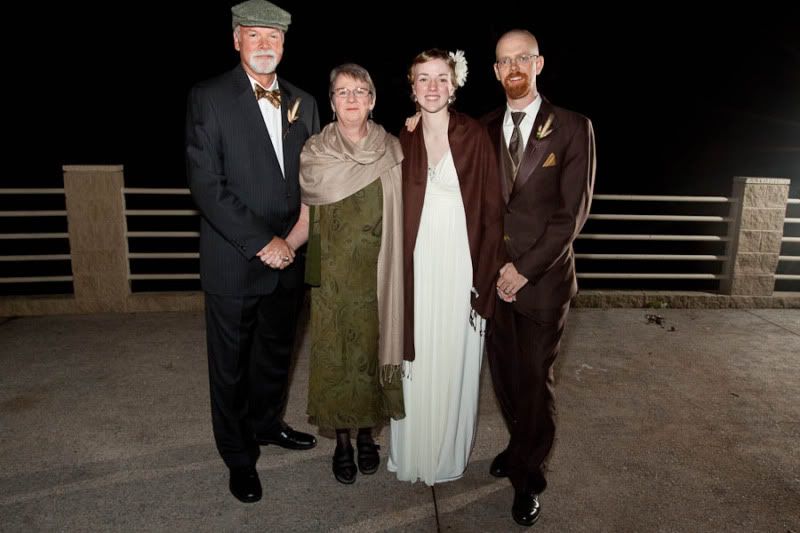 Both of us with my parents. Have I ever mentioned on here that we live about 4 blocks from my parents? It's really nice.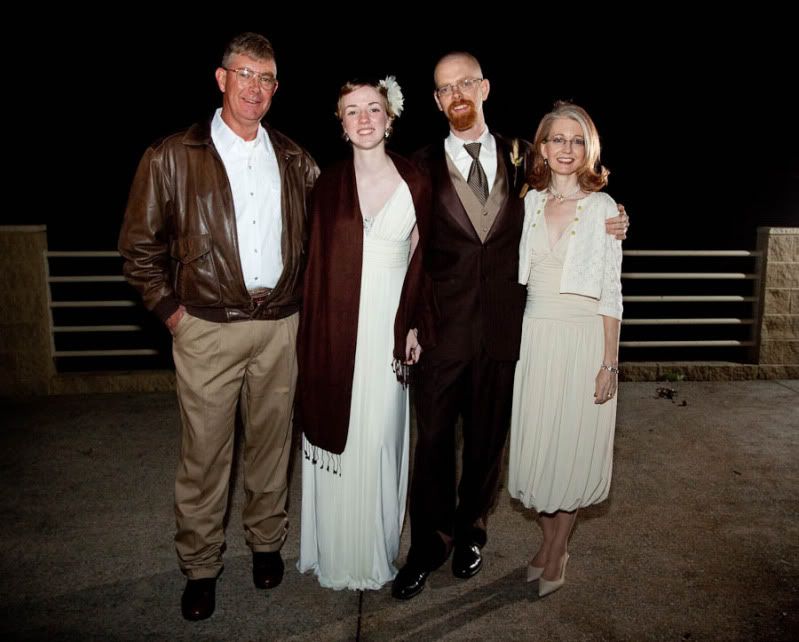 Here we are with Opie's dad and mom. His mom and stepdad are actually buying a house about 3 minutes away from us. It's good that we both get along well with our in-laws, eh? :P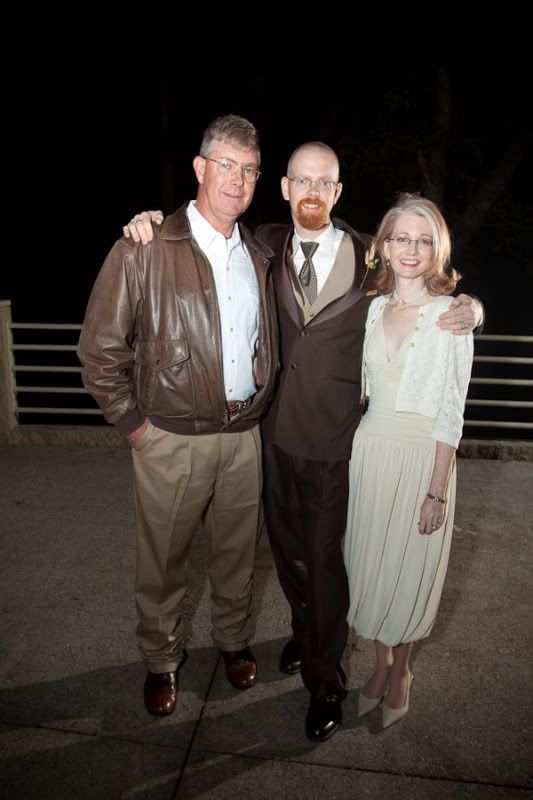 Here's Opie with his parents.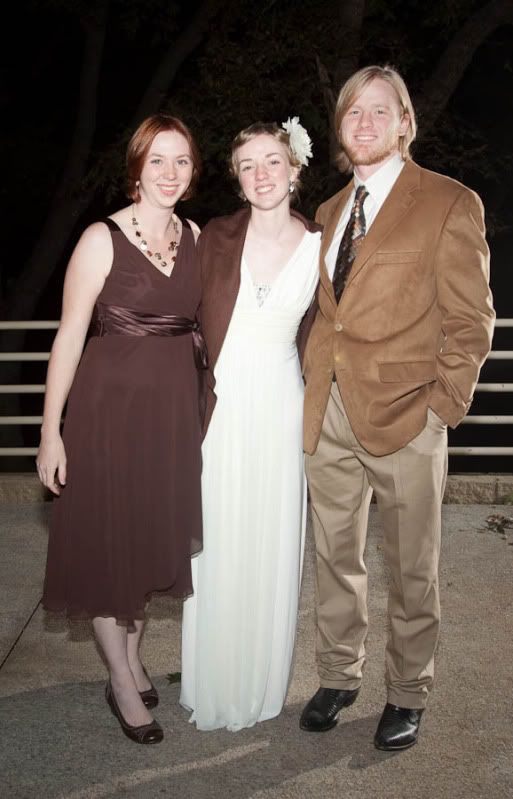 My siblings 'n' me.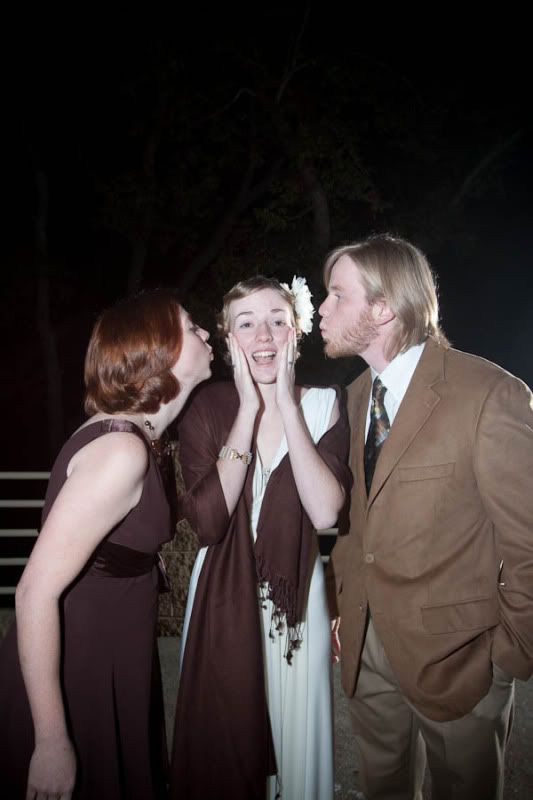 And here we are recreating a photo from my brother's wedding in February!
Seeeee?
Phew. Done with the obligatory group photos. Onto more of the good stuff, next.
All photos by Jenna Cole, unless otherwise denoted by watermark as Lynn Nguyen's. Also, the very last photo from my brother's wedding belongs to Melissa Bradbury.
I purchased a disc of unedited high resolution photos from Jenna, so all photos by her have been edited by me for the purpose of sharing them with you.