Oh, Makeup. I think I've worn it maybe twice in the last year. I think my complexion has definitely improved for it, and Opie's not particularly fond of the stuff. Even when I did wear it on a regular basis, it was generally just a little bit of concealer, eyeshadow, mascara, and occasionally lipstick and/or lipgloss.
That being said, although my acne wasn't and isn't as bad as many suffer from, I do have some mild insecurities about my acne and acne scars. That was actually a very small reason I considered waiting to get married (but obviously it wasn't enough impetus to actually do so). I figured my complexion would clear even more a few years out than at the 20.5 I'll be when I get married.
So am I going to spend a gazillion dollars on the services of a makeup artist? Heck naw. I'm spending a smallish amount (or, hey "figurehead".. wedding present? eh? eh? I'm a subtle one, I know.) for the services of my dear buddio who happens to be going to school for costume design, wherein she takes makeup classes. Woot. While I don't feel the need to be turned into a character from Xmen or Pirates of the Caribbean for my wedding, I know this little foxy lady is sure to make me look a little more polished on my big day.
The Foxy Lady herself, in one of her bridal portraits I shot last year
So, wonderful makeup lady of wonderfulness. I've been browsing shots of folks all glammed up. What I want is pretty simple, methinks. I want something really clean and simple. Nothing with much color particularly.. just enough to play up my features and conceal some of my blemishes, but otherwise, remain moderately unnoticeable. Like so:



Also, on a pretty well completely unrelated note, I was watching that "Whose Wedding Is It Anyway?" show on MyStyle, and felt a distinct urge to track down and kill one of the wedding planners. Her clients were this really cool, moderately quirky couple with a quick witty (and sarcastic) sense of humor who were looking to buck a few of the traditions in lieu of things that better represented themselves and their relationship. The wedding planner, hired by the mother of the bride, could not even begin to comprehend why someone would want to do anything remotely different from every established tradition. She was downright rude, scoffed at all of their ideas and suggestions, ignored and disregarded every request of the bride and groom, and then got incredibly indignant and stormed off like a child when they finally expressed their frustrations with her manner of doing business. The show even tried to paint the planner as the one in the right. Ugh. I'm normally amused by the ridiculous nature of the wedding shows on TV, but this time I was just disgusted.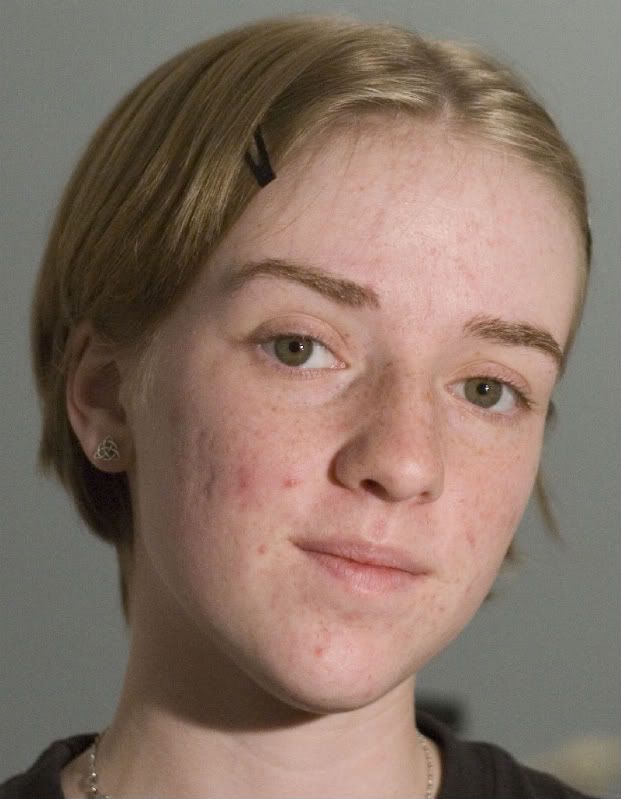 Whee. Here I am today, after a few medically difficult days. Here's about as blank a slate as you'll see. Hopefully I'll be far less tired, stressed, and under the weather on our wedding day. I'm not used to posting pictures without retouching my complexion. Oh well. I love you guys, you 4 or so readers out there.